Roll over image to zoom in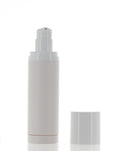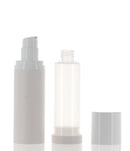 Description
Introducing our Pump Brilliance Treatment Pump Airless Refillable Bottles, the ultimate choice for premium skincare and beauty products. Crafted from high-quality PP material, these bottles come in three versatile capacities - 30ml, 50ml, and 100ml, ensuring your products remain fresh and effective. The airless design protects your formulations while the refillable feature promotes sustainability. Choose from various finishes and decoration options to create a unique, branded look. Make a lasting impression with Pump Brilliance. 
Key Features: 
 
Protects skincare and beauty products from air and contaminants, ensuring longevity.

 
Reduces environmental impact with refillable functionality.

 

Available in 30ml, 50ml, and 100ml for various product applications.

 

Tailor the bottle's finish and decoration to match your brand's identity.

 

Keeps your product safe and secure during storage and transit.

 

Choose from a variety of Pantone colors to suit your branding.

 
Add a touch of luxury with hot-stamp, heat transfer labels, anodized, UV metalized finishes, and more.

 

Suitable for serums, creams, lotions, and more.

 

Start with just 10,000 pieces to accommodate various business scales.

 

Impress customers with a premium packaging solution that reflects the quality of your products.