Roll over image to zoom in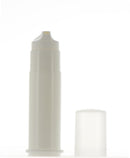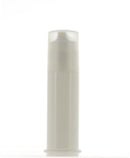 Description
Introducing our cutting-edge 60ml and 100ml Toothpaste Airless Pump, designed to enhance the packaging of hygiene products. Crafted from high-quality PP material, this component boasts an airless pump mechanism that preserves product integrity and prevents contamination. With a sleek over cap and customizable decoration options, it's the perfect choice for premium hygiene brands seeking a unique and functional packaging solution. 
 
Key Features: 
Maintains product freshness and prevents waste.

 

Ensures durability and product protection.

 

Adds an extra layer of protection and sophistication.

 

Available in any Pantone shade to match your brand identity.

 

Choose from hot-stamp, heat transfer label, anodized, UV metalized, emboss, deboss, or spray finish.

 

Perfect for packaging hand sanitizers, creams, lotions, and more.

 

Generous 60ml and 100ml Capacity and suitable for various product types and sizes.

 

Start with as few as 10,000 pieces to fit your production needs.

 

Impress customers with a premium packaging solution.

 

Our airless pump ensures consistent product dispensing and minimizes product exposure to air, maintaining efficacy and shelf life.