Roll over image to zoom in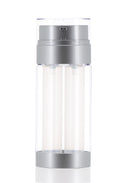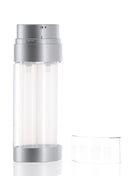 Description
Introducing Symmetry Skin's Duo Care, a breakthrough in skincare packaging. This PP Dual*2 Airless Treatment Pump Bottle combines two separate 30ml chambers in one elegant, airless design, allowing you to store and dispense two distinct skincare products with precision and convenience. Ideal for serums, creams, or lotions, this bottle maintains product integrity, ensuring your skincare routine remains uncompromised. Elevate your skincare experience with Duo Care and simplify your beauty regimen. 
Key Features: 
Innovative Dual-Chamber Design: Two separate 30ml chambers in one bottle for versatile skincare storage.

 

Airless Pump Technology: Preserves product freshness by minimizing air exposure and contamination.

 

Over cap Included: Keeps your products secure and prevents accidental dispensing.

 

Customizable Appearance: Available in a wide range of Pantone colors and various decorative finishes.

 

Versatile Applications: Perfect for serums, creams, lotions, and other skincare formulations.

 

High-Quality PP, ABS, and SAN Material: Durable and reliable packaging solution.

 

Decoration Options: Customize with hot-stamp, heat transfer labels, anodized, UV metalized, embossing, or spray finish.

 

Minimal Order Quantity: Begin with as few as 10,000 units for your brand or product line.

 

Precision Dispensing: Accurately control the amount of product with the 0.21cc dosage.

 
Elevate Your Beauty Routine: Simplify and enhance your daily skincare regimen with Symmetry Skin Duo Care.