Roll over image to zoom in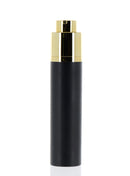 Description
Elevate your skincare and beauty product packaging with our Revitalize & Refine Airless Treatment Pump Bottle. Available in 15ml, 30ml, and 50ml capacities, this elegant bottle is crafted from high-quality PP/ABS/ACRYLIC material. Its twist-lock mechanism ensures product freshness and prevents leakage, making it ideal for serums, creams, and lotions. Choose from a wide range of colors and decoration options like hot-stamp, heat transfer label, anodized, UV metalized, emboss, deboss, or spray finish to customize your brand's identity. With a minimum order quantity of 10,000 pieces, make your skincare products shine with sophistication. 
 
Key Features: 
 
Airless design for hygienic and precise dispensing.

 

Available in three convenient sizes to suit various product needs.

 

The twist lock mechanism ensures product integrity during transport and use.

 

Diverse color options and decoration techniques for brand personalization.

 

Ideal for skincare and beauty products requiring airless packaging.

 

Elevate your brand's image with a touch of luxury and sophistication.

 

Prevents product contamination and waste, saving you money.

 

High-quality materials for durability and a premium look.

 

Enhance your product's shelf appeal with multiple decoration choices.

 

Minimum order quantity of 10,000 pieces for cost-effective packaging solutions.