Roll over image to zoom in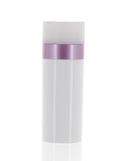 Description
The Beauty's Delight Airless Treatment Pump Refillable Bottle is a game-changer in the world of skincare packaging. With a capacity of 30ml or 50ml, this refillable bottle is designed to keep your creams and serums fresh and effective. Its airless treatment pump dispenses a precise 0.25cc dosage, ensuring no product goes to waste. The over cap further protects your precious elixirs, making it a must-have for skincare enthusiasts. 
 
Key Features: 
Available in 30ml and 50ml capacities for versatile use.

 

Crafted from high-quality PP/ABS materials for durability.

 

Dispenses a precise 0.25cc dosage, preventing product wastage.

 

Suitable for a wide range of skincare and beauty products.

 

Customizable in any Pantone color to match your brand.

 

Various decoration options, including hot-stamp, heat transfer labels, anodized, UV metalized, embossing, debossing, and spray finish.

 

Keep your products fresh and potent with the over cap.

 

Ideal for eco-conscious consumers with its refillable design.

 

Elevate your brand with a product that combines functionality and style.

 

Minimum order quantity (MOQ) of 10,000 pieces for your packaging needs.