Roll over image to zoom in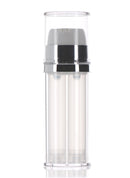 Description
Introducing the Duo Glow 30ml Airless Treatment Pump Bottle, a cutting-edge solution for beauty and skincare products. This innovative dual-chamber container offers a total capacity of 30ml (15ml in each chamber) and ensures your creams, serums, and lotions stay at their peak potency. Crafted from premium materials, it features an over cap for secure storage and offers customization options like hot-stamp, heat transfer labels, and more. With a low MOQ of 10,000 pieces, this packaging will give your brand a distinct edge. 
 
Key Features: 
Dual-chamber design with 15ml capacity in each chamber.

 

Crafted from high-quality materials: PP, ABS, and SAN.

 

Secure over cap to prevent product contamination.

 

Ideal for a wide range of beauty and skincare products.

 

Customizable with hot-stamp, heat transfer labels, anodized, UV metalized, embossing, debossing, and various finishes.

 

Available in a spectrum of Pantone colors to match your brand identity.

 

Low Minimum Order Quantity (MOQ) of 10,000 pieces for accessibility.

 

Keep your formulations fresh and effective for longer.

 

Elevate your product's visual appeal and branding.

 

A reliable solution for beauty and skincare brands seeking innovation in packaging.