Roll over image to zoom in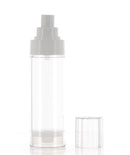 Description
Elevate your skincare and beauty products with our Age Defying Elixir AS/PP Treatment Pump Airless Bottle. Available in 30ml, 50ml, 80ml, and 100ml capacities, this airless bottle is designed for precise dosage, dispensing 0.25cc of your product with each pump. Crafted from high-quality AS/PP materials, it offers a luxurious and hygienic solution for your creams, serums, and lotions. With customizable finishes and decoration options, this bottle is the epitome of elegance in cosmetic packaging. 
Key Features: 
Available in 30ml, 50ml, 80ml, and 100ml capacities to suit various product sizes.

 

AS/PP material ensures durability and protection for your skincare and beauty formulations.

 

Precision dosage of 0.25cc per pump for efficient product application.

 
Designed with an over cap to maintain product integrity and prevent accidental dispensing.

 

Suitable for skincare and beauty products, offering a touch of luxury to your brand.

 

Customizable in a wide range of colors, including Pantone options.

 

Various decoration options are available, including hot-stamp, heat transfer label, anodized, UV metalized, emboss, deboss, and spray finish for a unique brand identity.

 

Low minimum order quantity of 10,000 pieces.

 
Elevate your product's perceived value with this elegant and functional airless bottle.

 

The perfect choice for premium skincare and beauty brands looking for a standout packaging solution.