Roll over image to zoom in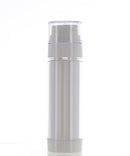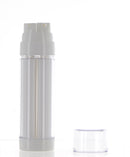 Description
The Duo Glo Airless Treatment Pump Bottle is a cutting-edge solution for the modern skincare enthusiast. This dual-chamber, dual-actuator design allows you to combine and dispense two different skincare formulations simultaneously. With a sleek and premium look, it's the perfect packaging choice for high-end skincare and beauty products. 
Key Features: 
Dual-chamber design for mixing and dispensing two skincare products in one bottle.

 

Airless pump technology preserves product integrity by preventing air exposure.

 

Each chamber holds 20ml, providing a total capacity of 40ml.

 

Made from high-quality AS, PP, and ABS materials for durability and product protection.

 

Precise 0.20cc dosage ensures controlled application and minimizes waste.

 

Suitable for skincare and beauty products, offering versatility in product combinations.

 

Customizable in any Pantone color, allowing brand personalization.

 

Various decoration options, including hot-stamp, heat transfer labels, anodized finishes, and more.

 

Over cap included for added protection and an upscale appearance.

 

Low minimum order quantity of 10,000 pieces for brand flexibility and scalability.