Roll over image to zoom in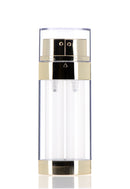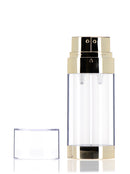 Description
Elevate your beauty and skincare products with our Hydra Glow Dual-Chamber Airless Treatment Pump Bottle. This innovative packaging solution holds two separate 15ml chambers, allowing you to combine two different formulations in one sleek container. The precise 0.15cc dosage ensures controlled and efficient product dispensing, while the airless technology keeps your products fresh and protected. Enhance your brand's appeal with customizable decoration options and a choice of any Pantone color. Beauty and skincare have never looked so elegant. 
Key Features: 
Dual-Chamber Design: Store two different products in one bottle for versatile skincare routines.

 

Precise Dosage: Dispenses 0.15cc per pump for controlled application and reduced waste.

 

Airless Technology: Keeps your skincare products fresh and free from contamination.

 

Over cap: Added protection to keep your products secure during travel.

 

Customizable: Choose from various decoration options, including hot-stamp, heat transfer label, anodized, UV metalized, emboss, deboss, or spray finish.

 

Color Freedom: Select any Pantone color to match your brand identity.

 

Ideal for Beauty and Skincare Products: Perfect for serums, lotions, creams, and more.

 

Premium Materials: Made from PP/ABS/AS for durability and an upscale look.

 

Minimum Order Quantity (MOQ): Start with just 10,000 units to bring your vision to life.

 

Elevate Your Brand: Provide your customers with a unique and elegant skincare experience.